Metal floor decking machine is one of our main roll forming machines, we made many machines for the North American countries, such as the America, Canada, Mexico. Especially for the America, we already sent many floor decking machines to there, we have customer from New York, Florida, Texas, California as so on. The floor decking machine America use are almost same and standard, normally the deck panel they used have 1.5B type, 2.0B type and 3.0B type, and the material thickness they used are Gauges 16 18 20 22 as so on. Most of the metal floor decking panel are 36" effective width and 48" input material width. Here I share the 3 1.5B 2.0B 3.0B profile drawings for you check, please have a look.

Maybe you have same type panel demand, you can choose the one you prefer and we can give you the detail quotation.



Here below are some of our metal floor decking machine photos for you check:
The machine in the below photo are the 1.5B deck machine we made before for our USA customer.
| | | |
| --- | --- | --- |
| 1 | Automatic hydraulic decoiler with loading cart | 1 set |
| 2 | Main roll forming machine (feeding-forming-shearing) | 1 set |
| 3 | Automatic deck sheet stacker | 1 set |
| 4 | Hydraulic station | 1 set |
| 5 | Electric control desk | 1 set |
| 6 | Spare parts as so on | Details in 7th page |

Here below are the final product made by our machine:


We gave customer different options for the machine configuration: For the decoiler, we have manual type decoiler and automatic hydraulic decoiler with loading card, for the decoiler loading capacity, we have 5t 8t 10t 12t, the customer from USA and Mexico most of them choose 8t loading capacity automatic decoiler and some of them choose 12t loading capacity, this depends on the customer personal requirement, we can design as it, here below I share the decoiler photos for you better understanding.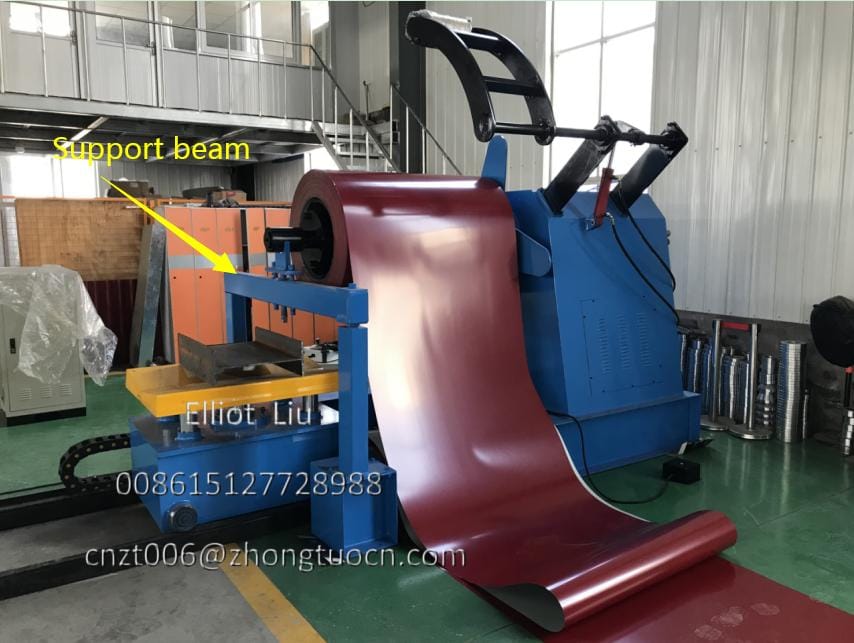 Here below are the main parameters of our roll forming machine:
Size of main part: about 15000 х 1850 х 1500 mm
Weight of main part: about 15.5 t
Voltage: 480 v 60 hz 3 phase or as request
Frame: 400 H beam steel welded
Roller fixer: Middle plate (thickness 20mm)

Drive mode: Chain (2 inches double chain with chain tensors)
The chain tensors can guarantee the chain is not loose after long time use, here below I share the photo for you better.


We can also adopt gear box transmission if you need, but this need extra cost, here below I share the photo for you check:


Material of rollers: Gcr15 quenching treat HRC58-60
Material of shafts: 45# steel precision-machined
Diameter of shafts: φ 95 mm
Number of rollers: about 28 rollers
Drive motor power: 18.5 kw x 2 sets
Drive motor brand: Chinese famous brand
Drive motor installation: inside the machine
Processing material: galvanized coils yield strength till 550 Mpa
Material thickness: 0.8-1.5 mm
Input material width: 1220mm
Effective width after forming: 914mm
Forming speed: 0-15 m per minute
For the shearing system, our machine adopt double oil cylinder, this is more stable than the single oil cylinder, and at the same time, our hydraulic station adopt 7.5kw motor, this can guarantee the cutter can cut 1.5mm thickness material easily: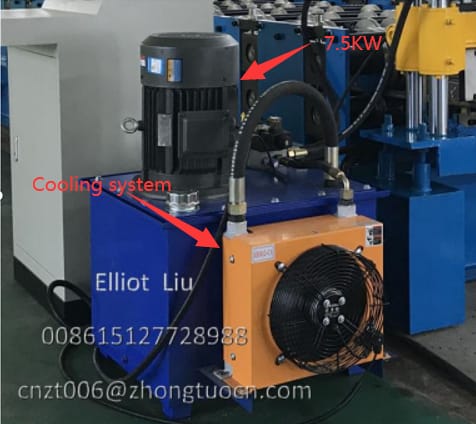 And at the same time, we can add the logo press for customer, the logo will be pressed when the share part do the shearing job, the logo mold is changeable, here below I share the logo photos for you reference:


For the receiving table, we can supply both manual type and automatic type, for the automatic type stacker, we have 6m 9m 12m options, customer can choose the sizes as their production demand, the automatic stacker can improve the working efficiency a lot, here I share the stacker photos for you check.


If you want buy this machine, we are the best choice, we sent many same machines to North America market before, and we have full experience, here I share the bill of lading photos before for you check:


Here below are the spare parts we will give you with the machine, we can give you our machine warranty time 2 years and the below spare parts are with the machine send to you free of charge, so you can use our machine well, if you need our machines, please contact us.


Here below our machine Youtube video links for you check:


Machine working video:
https://youtu.be/_0ljw7_HaHY
USA customer good evaluation:
https://youtube.com/shorts/62veT_WnA1s
Please contact us via my name card below: