The 2022 New High Speed Glazed Tile Roll Forming Pressing Machine

INTRODUCTION:
This series of machine is a new-generational type roof tile roll forming machine with high speed and high-efficient, including decoiler system, sheet guiding system, roll forming system, pressing system, cutting system, auto-stacker system, hydraulic system, controlling system, etc.


The common thickness for final products is normally 0.4-0.8mm to different profiles and materials. We also have other roll forming machines, like the Trapezoidal (IBR) Roofing Sheet Machine, Corrugated Roofing Sheet Machine.
The 2022 new high speed glazed tile roll forming pressing machine for sale on https://www.rollsformingmachines.com Contact us right now.

PICTURE:
The 2022 new high speed glazed tile roll forming pressing machine is one professional equipment to produce steel tile which is comprehensively used in the large and medium-sized houses, villas, etc
This line includes decoiler coil sheet guiding roll forming punching post-cutting, hydraulic system controlling system, etc.


TECHNICAL PARAMETER: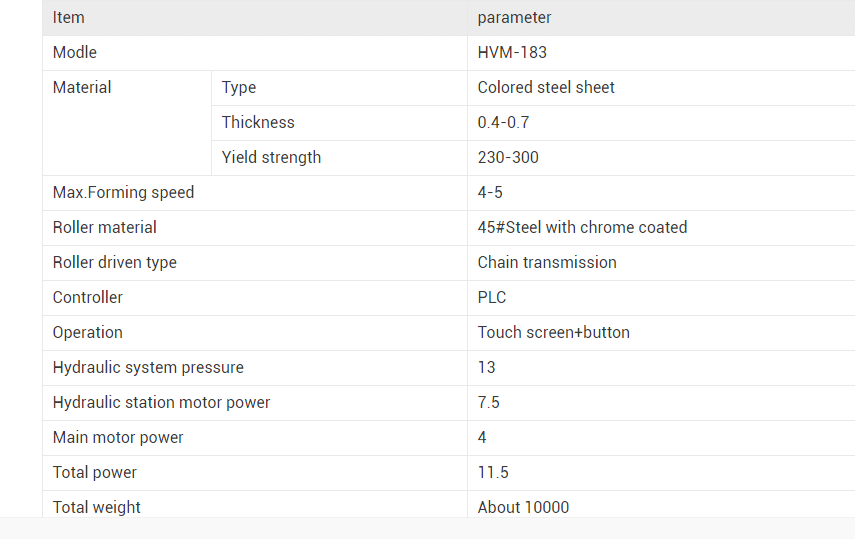 TECHNICAL FLOW:
Decoiling→guiding and feeding→roll forming→pressing→cut to length→run out table

COMPONENTS:
Decoiler
Cantilever-type fully automatic decoiler adopts ultrasonic sensor technology and frequency inverter adjustment. The pressing-arm hydraulic driven power is optional. All electrical parts and hydraulic parts are installed inside of decoiler frame.
Roll forming
Roll forming system consists of guiding device machine base transmission parts.and roll forming rollers. etc.The filming and pre-slitter device is optional.
Punching
The punching system adopts hydraulic type punching,which works stably and without scratch.The single punching or twin punching is optional.
Post-shearing device
Post-shearing device adopts frame type hydraulic shearing. The panel is cut stably and can avoid distortion. This design don't have any scrap in the process of cutting.
Hydraulic system
Hydraulic system is installed inside of machine base. The design is reasonable and compactly.
Controller
It adopts Mitsubishi PLC and frequency inverter adjustment to realize fully automatic operation. Operator can set parameters such as badges length of panels quantities in the touch screen.
PANEL DRAWING: